The backdrop, which is used in a Bangsawan performance often based on the scene of the story.
The basic backdrop (curtains) consists of:
1. Decoration in the palace space
2. Forest background
3. Garden background
4. Road or path background
5. Room background
6. Nature background
For large groups, there are many additional curtains (backdrop) that depict various sceneries which are different and appropriate to the story. Usually the size of the curtains measured 18 to 20 feet wide and seven to eight feet in height. The arrangement of the curtains on the Bangsawan stage is arranged according to the storyline which is then followed by a scene or according to the required acting space for a particular scene.
Decoration in the palace space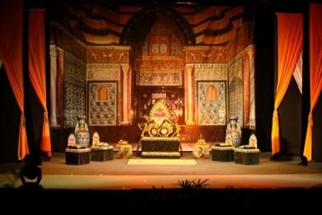 Forest background